Product Feature:
1.JIS standard is implemented.
2.Cylinder can be mounted from 4 directions, and convenient to install and use.
3.Multitudinous cylinder can be mounted side by side to save space.
4.The front end of the cylinder is designed with boss. Centering can be done easily.
5.The internal diameter of the body is treated with rolling followed by the treatment of hard anodizing, forming an excellent abrasion resistance and durability.
6.With magnet type is of the feature of position sensing.
7.There are magnetic switch slots around the cylinder body, which is convenient to install inducting switch.
8.The seal of piston adopts heterogeneous two-way seal structure. It has compact dimension and the function of grease reservation.
Specification:

Installation & Usage:
1.When load changes in the work, the cylinder with abundant output capacity shall be ed.
2.Relative cylinder with high temperature resistance or corrosion resistance shall be chosen under the condition of     high temperature or corrosion.
3.Necessary protection measure shall be taken in the environment with higher humidity, much dust or water drops,     oil dust and welding dregs.
4.Dirty substances in the pipe must be eliminated before cylinder is connected with pipeline to prevent the entrance     of particles into the cylinder.
5.The medium used by cylinder shall be filtered to 40μm or below.
6.As both of the front cover and piston of the cylinder are short, typically too large stroke can not be ed.
7. Anti-freezing measure shall be adopted under low temperature environment to prevent moisture freezing.
8.The cylinder shall avoid the influence of side load in operation to maintain the normal work of cylinder and extend     the service life.
9.If the cylinder is dismantled and stored for a long time, please conduct anti-rust treatment to the surface.  Anti-dust     caps shall be added in air  inlet and outlet ports. The front and back cover can not be dismantled, which shall be     especially noticed.
Ordering Code: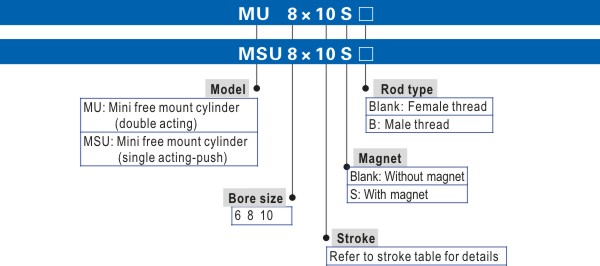 Symbol: