Product Feature:
1、Manufactured by our enterprise;
2、Riveted structure is adopted to connect the cylinder body and back cover, and piston and piston rod to make it compact and reliable;
3、The inner diameter of the body is treated with rolling followed by the treatment of hard anodizing, forming an excellent abrasion resistance and durability;
4、The seal of piston adopts heterogeneous two-way seal structure. It has compact dimension and the function of oil reservation;
5、Compact structure can effectively save installation space;
6、There are magnetic switch slots around the cylinder body, which is convenient to install sensor switch;
7、Mounting accessories with various specifications are optional.
Specification:


Installation & Usage:
1.According to the operating load, the suitable cylinder bore size. Under the high-temperature environment, use the high-temperature type cylinder.
2.Before fitting correct fittings in, make sure the thread ports and fittings are clean. Be aware of dust or fitting tap falling into the cylinder.
3.It is suggested to use the medium lubricated by 40um filter element.
4.Under the low-temperature environment, take measures to avoid frozen fluid inside system.
5.In order for the cylinder to achieve long service life, do not side-load cylinder.
6.If the fittings were removed from the cylinder for a period of time, be sure to block the thread port with protecting cap to keep the dust away
Ordering Code:

Symbol: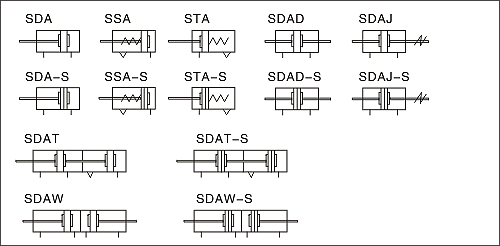 CLICK ABOVE FOR DOWNLOAD