Product Feature:
1.Direct acting type and normally closed mode, flexible in direction change.
2.No need to add oil for lubrication.
3.Several valves can be installed integrately to save installation space.
4.Affiliated manual devices are equipped to facilitate installation and debugging.
5.Several standard voltage grades are optional.
Specification: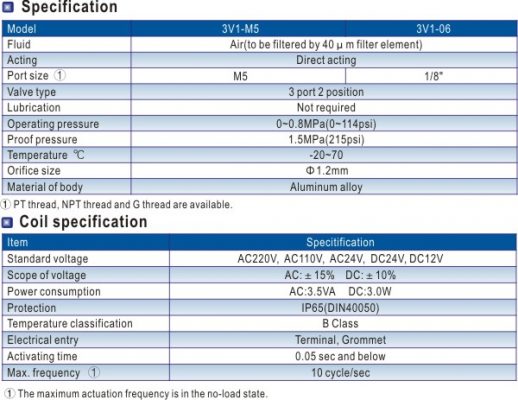 Installation & Usage:
1.Before installing, be sure the valve hasn't been damaged via transportation.
2.It's suggested to use the medium lubricated by 40μm filter element. Be aware of the flow direction and port size.
3.Please notice whether the installation condition accords with technical requirements (such as  "voltage", "actuation frequency", "working pressure" and "scope of application temperature"), then the equipment can be installed and used.
4.Notice the flow direction of air during installation, P is the air intake, A (B) is the work port and R (S) is the exhaust outlet.
5.Take measure to avoid vibration and frozen.
6.Before using the fittings and tubes make sure they are clean. When connecting to fittings, be sure the  PTFE Thread Seal Tape is used correctly.
7.To keep the dust away, please use the silencer for the exhaust ports. Never forget to install dirt-proof boot in air intake and outlet during dismounting.
8.After installing, please use the manual override to test valve first.
Ordering Code: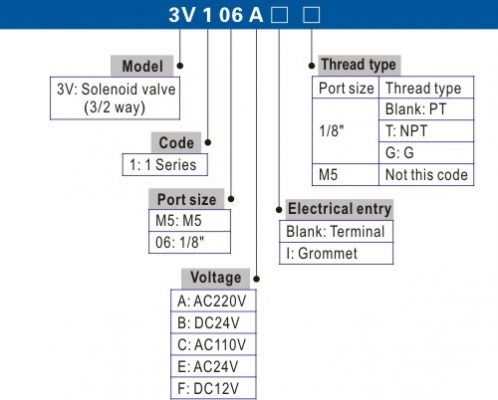 CLICK ABOVE FOR DOWNLOAD