Product Feature:
1. Complete rotation on horizontal plane, so more save space compare with QCK series.
2. Boss front end cap and flush front end cap are available.
3. Double pins  in the rotation guide groove to increase stability.
4. There are magnetic switch slots around the cylinder body convenient to install inducting switch.
Specification: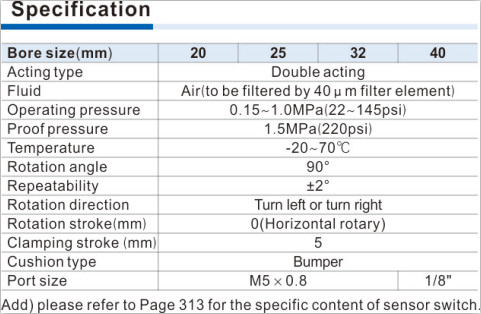 Installation & Usage:
1. Dirty substances in the pipe must be eliminated before cylinder is connected with pipeline to prevent the entrance of impurities into the cylinder.
2. The medium used by cylinder shall be filtered to 40μm or below.
3. Anti-freezing measure shall be adopted under low temperature environment to prevent moisture freezing.
4. If the cylinder is dismantled and stored for a long time, please conduct anti-rust treatment to the surface. Anti-dust jam cap shall be added in air inlet and outlet ports.
5. To insure the life-span of cylinder and jig, please use flow control valve to control the speed of cylinder.
Ordering Code:

Symbol:
CLICK ABOVE FOR DOWNLOAD