Product Feature:
1.JIS standard is implemented.
2.The non-rotating precision is high and deflection of the end of piston rod is low, which is suitable for precise guide.
3.It adopts lengthening type sliding supporting guide. No additional lubricant is needed and it has good performance of guide.
4.Mounting holes on three sides facilitates multi-position mounting.
5.It is good resistance to bending and twisting moments.
6.Except for the axial, each side of the cylinder has installation orifices to provide several installation and fixation ways for the customers.
7.There are two groups of air intake and outlet at two sides of the cylinder for the actual ion.
8.Bumper  in front of the barrel can adjust the stroke of cylinder and relieve impact.
9.Standard configuration of this series has magnet and the type without magnet is not available.
Specification: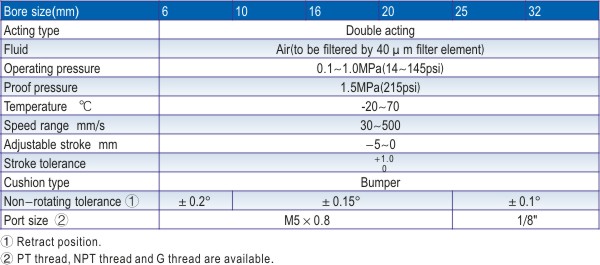 Installation & Usage:
1.When load changes in the work, the cylinder with abundant output capacity shall be ed.
2.Relative cylinder with high temperature resistance or corrosion resistance shall be chosen under the condition of high temperature or corrosion;
3.Necessary protection measure shall be taken in the environment with higher humidity, much dust or water drops,     oil dust and welding dregs.
4.Dirty substances in the pipe must be eliminated before cylinder is connected with pipeline to prevent the entrance of particles into the cylinder;
5.The medium used by cylinder shall be filtered to 40μm or below.
6.As both the front cover and piston are short, too large stroke can not be ed.
7.Anti-freezing measure shall be adopted under low temperature environment to prevent moisture freezing.
8.The cylinder shall avoid redial load in operation to maintain the normal and extend service life.
9.If the cylinder is dismantled and stored for a long time, please conduct anti-rust treatment to the surface. Anti-dust     cap shall be ed into the inlet and outlet ports. As the precision of the manufacture and guide is high, Please do not dismantle the fixed block or cylinder cover .
Ordering Code:


Symbol:

CLICK ABOVE FOR DOWNLOAD