Product Feature:
1. JIS standard is implemented.
2. Two guides of special bearing steel and linear bearing or bronze bearing guide are used to prevent rotating. They can bear high torque and radial load.
    ★Note: Steel ball linear bearing: It is suitable for elevation action of cylinder or the situation requiring high precision and high bearing ability, especially for the situation requiring low fraction action process.
      Bronze sliding bearing: it is suitable for the action that has radial load resistance. Compared with normal cylinder of same use, the horizontal impact resistance is doubled and it has stronger torsion rigidity.
3. Drive unit and guide unit are in the same barrel that no additional accessories are needed with minimal space required. The air intake is optional and it is convenient to install.
4. The bottom, back side and fixing plate of main body respectively has two exact orientation orifices (See ΦPA orifice and the orifice in XX point), which can provide orientation installation with high precision for the special situation.
5. Options of switch mounting with provision 4 mounting slots.
6. Special design of main body provides multi-mount;
Specification:


Installation & Usage:
1. When load changes in the work, the cylinder with abundant output capacity shall be ed.
2. Relative cylinder with high temperature resistance or corrosion resistance shall be chosen under the condition of high temperature or corrosion.
3. Necessary protection measure shall be taken in the environment with higher humidity, much dust or water drops, oil dust and welding dregs.
4. Dirty substances in the pipe must be cleared away before cylinder is connected with pipeline to prevent the entrance of particles into the cylinder.
5. The medium used by cylinder shall be filtered to 40μm or below.
6. The cylinder shall avoid the influence of side load in operation to maintain the normal work of cylinder and extend the service life.
7. Anti-freezing measure shall be adopted under low temperature environment to prevent moisture freezing.
8. If the cylinder is dismantled and stored for a long time, please conduct anti-rust treatment to the surface. Anti-dust cap shall be ed into the inlet and outlet ports. As the precision of the manufacture and  guide is high, never dismantle the fixed block or cylinder cover without permission.
Ordering Code: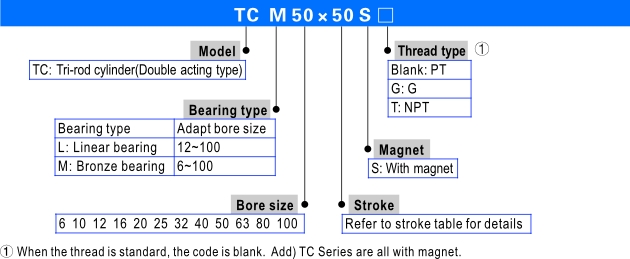 Symbol:

CLICK ABOVE FOR DOWNLOAD