Product Feature:
1.It suits for workshops that make automation welding.
2.There is a scraping dust ring in front cover, and it is firm and durable that can avoid dust and splashed welding slag breaking cylinders. It is more reliable than dust helmet.
3.It fits the working environment where has strong magnetic field, if it uses the sensor switch which is with strong magnet and anti-strong magnetic field.
4.Inlet interface are optional on three sides; buffer adjustment and speed limit adjustment are built-in.
5.Various types of sensor switches are available.
Specification: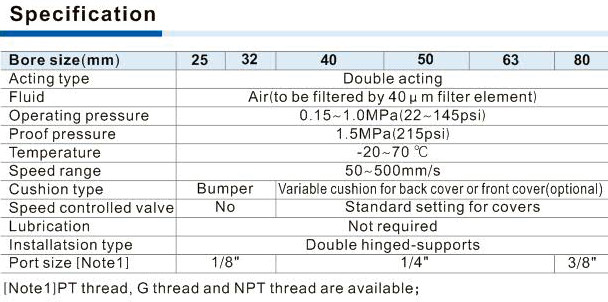 Installation & Usage:
1.In normal situation such as: edge packing, installation, jig test…and so on. Standard cylinder is suggested.
2.In case of high-magnetic field generated by welding in the vicinity, anti-magnetic welding clamp cylinder shall be used and corresponding anti-magnetic sensor switch shall be matched.
3.Before cylinder connecting, the dust must be eliminated to avoid it entering in the cylinder.
4.The medium used by cylinder shall be filtered to 40μm or below.
5.Under high temperature environment, the cylinder of high-temperature resistance shall be ed. Anti-freezing measure shall be adopted under low temperature environment to prevent the water freezing in cylinder.
6.If cylinder is not used for a long time, please advert the surface to get rusty. Inlet and outlet ports should be have anti-dust caps and also spread the oil to avoid getting rusty on piston rod.
Ordering Code: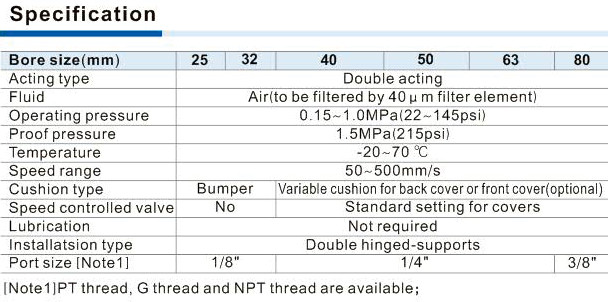 Symbol: