Product Feature:
1.It is installed between G series regulator (or filter & regulator) and G series Lubricator. The air flow is divided by the device that one enters Lubricator to supply oil for lubrication and the other (the second way) directly enters the equipment.
2.Several kinds of bracket can be ed to connect regulator and lubricator. Optional brackets are type T, type L and type U.
Specification:
Installation & Usage:
1.Check whether the components have been damaged during transportation before installing and using.
2.Pay attention to whether the flow direction of air (notice "→" direction) and thread type are correct.
3.Please notice whether installation condition accords with technical requirements (such as "working  pressure" and "applied temperature range");
4.Avoid usage in an environment that exposes the filter and lubricator bowl through contact with Chlorine, solvent, aromatic essence, acid and alkali to avoid damage to the Filter and Lubricator bowl.
5.Regularly clean or change filter core. Lubricators and regulators shall be in descending order.
6.Keep the dust away. The dust cover shall be installed in intake and outlet when the device is dismantled and stored.
Ordering Code: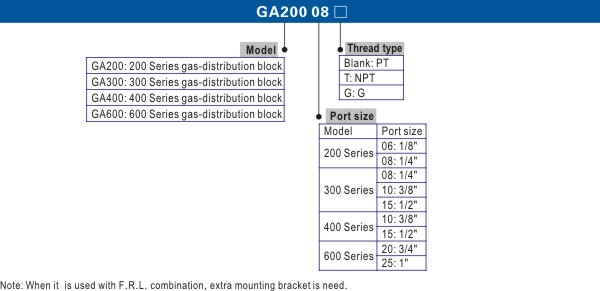 CLICK ABOVE FOR DOWNLOAD